May 3, 2016
Eliminate Downtime All Together with Your Server
Your bottom line depends on your ability to keep your plant infrastructure up and running at all times. Downtime in Supervisory Control and Data Acquisition (SCADA), Human Machine Interface (HMI), Historians and other critical Industrial Automation systems can mean lower yields, lost revenue, regulatory fines, compromised quality or a damaged reputation. To maximize your productivity and quality you need continuous availability and continuous visibility. And if you're looking to reduce costs, virtualizing your applications is likely high on your priority list too. Up until now, achieving these goals easily and affordably has been a challenge.
TELCO-GRADE CLOUD SOLUTIONS AND NFV
Network Functions Virtualization (NFV) is bringing efficiency, cost savings and flexibility to the networking world in the same way that virtualization and cloud technologies transformed the enterprise server world.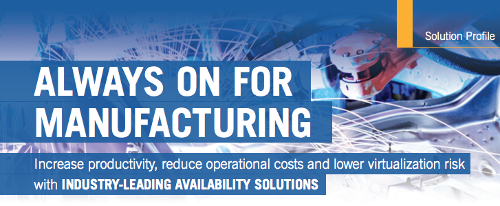 In the year that Stratus has been deployed at our facilities, performance has been exactly what we've expected, the support model has exceeded our expectation, and if things continue as we have seen then we can foresee having Stratus for a long, long time.

Steve Adams
Lead Automation Electrical Engineer,
Columbia Pipeline Group
Stratus provides continuous availability solutions that are integrated with performance monitoring and virtualization. Now you can get everything you need in one product eliminating the cost and complexity of other solutions.
Choose from platform or software products that are easily deployed and managed and backed by a support structure with over a 35-year track record of success.
More info:  http://www.stratus.com/
Solutions Profile:  http://www.stratus.com/assets/VPS-Manufacturing.pdf